10th China-ASEAN Think Tank Forum held in Nanning, China
CenPEG News
Nov. 30, 2017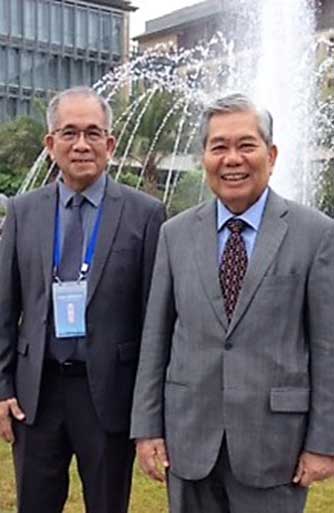 Tuazon, left, with Ambassador Villacorta of APPPFI. CenPEG photo
On the occasion of the 50th anniversary of the Association of Southeast Asian Nations (ASEAN), the Guangxi Academy of Social Sciences (GASS) together with the Beijing-based Chinese Academy of Social Sciences (CASS) organized the 10th China-ASEAN Think Tank Strategic Dialogue Forum on Nov. 9, 2017 at Nanning, China.
Invited as one of the resource speakers was CenPEG's director for policy studies, Prof. Bobby M. Tuazon, who spoke on "Philippine Perspective: Prospects of China-ASEAN Think Tank Connectivity in the Belt and Road Initiative" (Session on "The Building of the Belt and Road and China-ASEAN Think Tank Exchange Mechanism"). The other Philippine delegate was former Ambassador Wilfrido V. Villacorta who is with the Asia Pacific Pathways to Progress Foundation, Inc. (APPPFI).
In his presentation, Tuazon said the Belt and Road Initiative (BRI) is moving forward at a time when the China-ASEAN relations are experiencing relative peace and stability and as countries in the region step up economic cooperation toward inclusive growth and addressing economic imbalances. A grand-scale project like BRI that aims to build mutually-beneficial interconnectivity between China and the ASEAN region for a shared future needs the critical role of think tanks to provide the platform allowing the convergence of ideas, diversity of views, knowledge cooperation, and sharing of skills, he said. Think tanks thus promote better understanding, consensus, clarity of objectives as well as predicted results which the BRI needs in charting economic interconnectivity across diverse civilizations, three continents, and 60 countries.
Aside from scholars and academics from China, other think tank resource persons represented the 10 member-countries of ASEAN. From China, the speakers came from the GASS-Institute of Southeast Asian Studies, CASS, Sun Yat Sen University, as well as other think tank organizations and universities. CenPEG News